Peter's induction to the Bristol Rotary Club was performed by Olcott, Mary, Patty, and Terri as well as Angelique + Jim - we all welcome Peter into our Rotary Family
---
Information for July 31st District 7890 Yardgoats Baseball game:
(2 tickets available - Les Kish had a change in plans - contact Mary @ 860-919-3078 if interested in those tickets)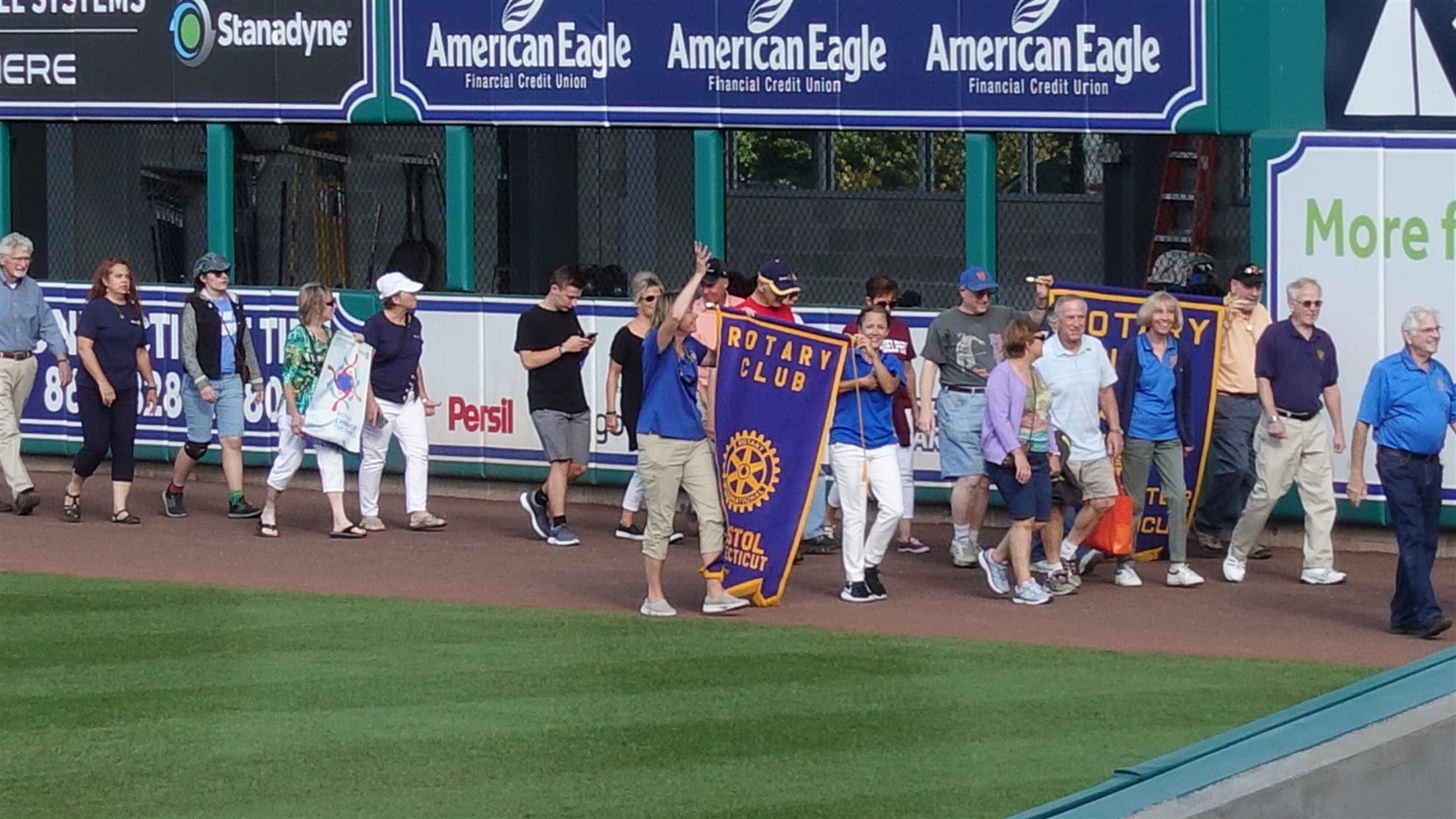 (photo from 2019)
Address: Dunkin Donuts Park, 1214 Main Street, Hartford CT, 06103
4:35 PM - Gates open. Tickets will be available at the Rotary Will Call table located outside of the Frontier Gate to the right of the Yard Goats Executive Offices on Main St. If you arrive late, your tickets will be available at the park's will call window on the corner of Main and Trumbull streets.
5:40 pm Flag Carry: We will be taken down to the field. Everyone is welcome – kids especially. We need up to150 people. We will come out during the singing of the National Anthem.
Game starts at 6:05 PM. Fireworks start at the end of the game.
Watch for the Rotary PSA on the big screen and a special presentation by DG Joanne Alfieri
Claudette - Happy to going on vacation with Lee, welcome Peter to our club
Patty - Welcome Peter, sponsor requests are going out for our September 12th Mini Golf Tournament
Mary - Welcome Peter
Bob - Happy to see Whit Betts - he has been MIA
Dave R - played a great round of golf with Les in 90-degree weather, welcome Peter
Whit - Welcome Peter, next week will be the speaker - please send Whit questions prior to the meeting, Peter has received more happy bucks than I ever have! jealous :)
Jim - Welcome Peter, attended an interesting music festival at Indian Rock this past weekend, going forward we should look at supporting Indian Rock
Les - Happy son Paul joined him at Tanglewood - enjoyed beautiful music, sad buck for Simone out of Olympics
OV - happy for Peter and happy that Angelique read the poem from grandmother - very inspirational
Judi Ann - Happy for Peter and looking forward to having him get involved with youth, take advantage of the last couple nights of Bristol Blues, and enjoyed Indian Rocks new patio
Peter - Thank you for accepting me into the club
Angelique - a sad buck for grandmother passing 6 years ago
Laura - happy Chris comes home Friday and welcome to the Bristol Rotary Club Peter!
---
3RD Annual Bristol Rotary Club Golf Tournament: September 12, 2021
Please let Patti know if you would like to be on the planning committee - next step reaching out for sponsorship renewal
---